Thank you and farewell to Calumet Executive Director Audrena Spence!
After 28 years of dedicated, exceptional service and leadership to our Calumet Center, Audrena Spence is moving on from her position as Executive Director. Please join us in thanking Audrena, and appreciating her invaluable contributions to Metropolitan Family Services!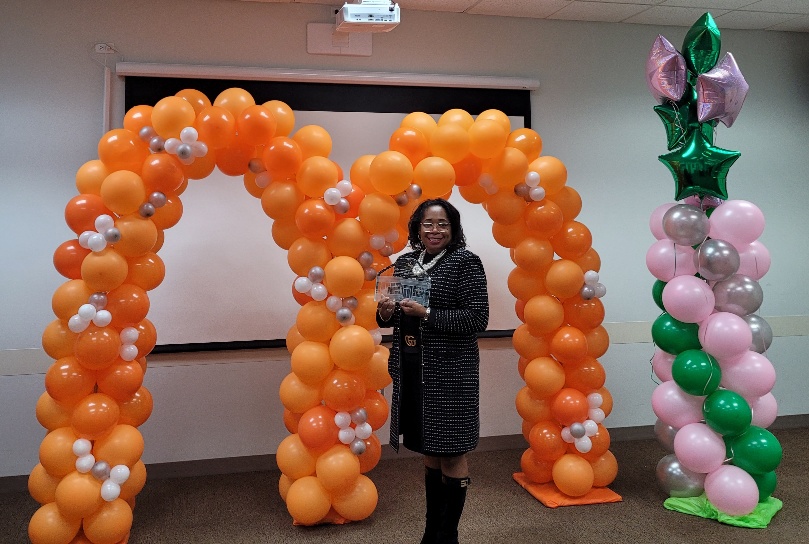 Audrena joined MFS as a social worker. She served in a number of direct service programs including domestic violence services, family counseling and others. Audrena spent her entire MFS career at the Calumet Center, advancing through the ranks to the ED position. During her time as Executive Director, the Calumet Center has grown substantially, providing an increasingly diverse array of services to more and more clients on the Far South Side of Chicago. Today, Metropolitan Calumet empowers 13,487 children and families.
Community partners, board members, leadership, staff, family, and friends joined a virtual farewell celebration to wish Audrena the best in the next steps of her journey.
Watch a tribute below from just a few of the people gathered to honor Audrena's leadership:
At her celebration, Audrena shared, "It is with sincere gratitude that I reflect on my career with Metropolitan over the past 28 years and my Farewell Community Celebration was a wonderful culmination. I am humbled by the kind words and well wishes. All I have been able to accomplish is because of the support of Metropolitan's leadership, staff, Board members, and community partners as well as my family and friends."
Carrie Pullie, who steps into the role of Executive Director, shared her own well-wishes: "I want to wish a bittersweet farewell to Audrena, my fearless and amazing, phenomenal, boss. She has been an exceptional leader and a mentor to me. I want to congratulate Audrena on her 28 years of service and leadership."
"Those of us who know Audrena well, know her for her loyalty to and love for the staff of Calumet," shared Theresa Nihill, COO of Metropolitan Family Services. "Audrena's inspirational leadership, the way she lives her values with integrity, her fierce passion for social justice and her undying commitment to investing in staff and their professional development, are just some of the things that have made Audrena highly respected and often beloved throughout MFS, with the residents of her South Side communities, within the profession of social work, among elected officials and many in the African American community."
"It's not the position that makes the leader; it's the leader that makes the position." ~ John C. Maxwell
We're pleased to share Carrie Pullie, NCC, LCPC, is the new Executive Director of Metropolitan Calumet!
Carrie joined Metropolitan in 2001 as a counselor working with youth in DCFS care and providing 24-hour crisis services. Since then, she has served in a number of capacities in a variety of programs, including Domestic Violence, Senior Services, Mental Health, and Housing/Case Management.
In 2009, Carrie willingly stepped in and turned the Family Works program, a multi-million dollar contract with the Chicago Housing Authority, then at risk of failing, into one of CHA's most successful programs, providing workforce development, economic stability, adult education, case management and other human services to families in several of the CHA complexes in the city. Her most recent work includes the development and implementation of a thriving program at Altgeld Gardens, including the creation and implementation of a very successful Youth Leadership Program.
We're looking forward to the future of Metropolitan Calumet!