What does family engagement mean to me?
CJ Pruitt, who works in Metropolitan's Healthy Minds, Healthy Children, Healthy Chicago (H3) program, recently participated in a MENTOR Illinois webinar, "Family Matters: Family Engagement as a Strategy in Strengthening Mentoring Relationships." She provided information on Metropolitan's family engagement programs, and shared her own insights into family engagement.
In CJ's own words …
What Does Family Engagement Look Like to Me?
When I asked this question to myself, I truly pondered what are some of the things I do with my own family and some of the traditions that were passed on to me that I did when my mother of an angel was living.  So I answered it this way:
I believe family engagement is about being involved in your child's life from the moment they come into your life.  It's about knowing their interests, knowing what they like to do or be … in life.  It's knowing who their friends are, knowing their favorite food, color, and learning what buttons not to push. It's going to the parent/teacher conferences, or advocating for your child when they received an unwarranted detention/suspension. It's having family meetings to iron out some problems – or in the case of how my family's meetings were formed, discussing a totally new menu for dinner (Macaroni & Cheese Mondays; Taco Tuesdays, etc). It's changing your food choice for the entire family to give encouragement to that child who has to lose weight. It's having family night where you watch a scary movie or a silly movie or a serious movie or it's GAME ON where you play board games or card games or virtual UNO on your cell phones (yes it exists), or it's Cook 'n Time in the kitchen with dad and son. And, it's about being silly and having fun whether they believe they're "too old", sometimes making them go so they will have a good time to be a kid. So, basically, it's about spending time and getting to know your child.
In the parent enrichment class [Parenting Fundamentals], we teach parents five key elements for building strong, long, lasting relationships with your child.  We say it's about communication, which can be asking a simple question of "How was your day?". We say it's about having fun together, having those silly moments; especially for us parents to be 16 again (let me emphasize—IN PLAY). It's about saying "I love you" because washing their clothes, cooking their dinner, chauffeuring them here and there can be perceived by your child as 'that's what you're supposed to do'. So then it's about mutual respect, because I may not listen to their type of music often, however, when we're in the same space, we have to come to a truce — so, I'll listen to their Rap, Hip-Hop, R & B (the clean versions), although, you have to listen to my contemporary Christian, gospel, jazz and blues. And, lastly, it's about encouragement: my child may believe they're mediocre about something, but when that parent/caregiver steps in to become their child's #1 Supporter; #1 Fan; #1 Cheerleader … then they will truly shine and become the GREATEST.
Recently, my son was discouraged because he wasn't selected to attend a college tour (he's ranked #1 in his class). He poured out his frustration, because a child who doesn't get straight As, has many tardies and several absences was slated to go. I shared with him, that I, too, was that child – I was headed down the wrong side of the tracks and my sixth grade teacher along with my mom told me that there was GREATNESS on the inside of me. Soon I was engaged in an after school computer class to later become, after receiving my bachelor's in Computer Technology, the best computer programmer with the companies I worked for at the time.  I told my son that sometimes we have to give others another chance, a second chance, before they get their "AHA" moment. Plus, I encouraged him to keep doing what he is doing and he should have no issues getting into the college of his choice.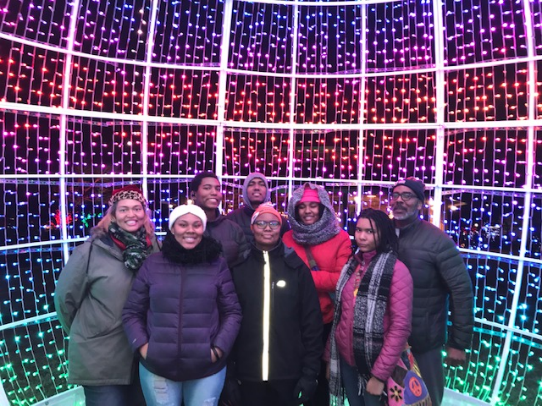 CJ and her family