Stones Jewelry to Donate 100% of April Watch Battery Proceeds for DuPage Gala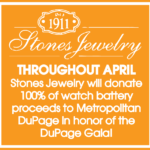 Tick-tick-tick-tick. Do you know what time it is? It's time to change your watch battery, while supporting children and families in DuPage!
For the entire month of April, Stones Jewelry in Wheaton will donate 100% of watch battery proceeds to Metropolitan's DuPage Center, in honor of our upcoming DuPage Gala.
Learn more about the DuPage Gala here and join us on Friday, May 11!
Metropolitan Family Services DuPage Center has provided support to vulnerable families who have had nowhere to turn, helping them restore balance in their lives since 1930 with services including counseling, youth mentoring and family self-sufficiency.