"My life is completely different." Meet LAS client Yannely
We're pleased to hear from Yannely at our upcoming Equal Access to Justice Award Luncheon! Learn more about the event here.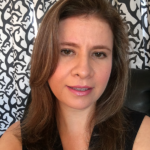 When our Legal Aid Society's (LAS) Domestic Violence Team first interviewed Yannely, she was participating as a complaining witness in a criminal case against her husband for abusing her. She had already received a long-term order of protection, but the order only protected her, not her children, despite one child being present for the incident that led to criminal charges. The order also failed to provide a schedule for parenting time or child support.
To make matters worse, the State's Attorney cautioned Yannely that the order she did have might be terminated at the conclusion of the criminal case. Because Yannely was understandably concerned about losing her protection, LAS engaged in court advocacy, ensuring that someone attended court dates with her until it was clear that her order would remain in effect for a full year.
"I felt that the advocate and attorney were holding my hand, they were always with me," Yannely says. "The help I got was huge. I did not expect the services I got. Everything was explained to me step by step, I did not have to leave work to go to court every court date, only when they need me."
While Yannely was protected physically by the order of protection during the divorce, her husband and his counsel spent the divorce trying to get Yannely to accept a settlement outcome with property division and parenting schedules that would not be in her interest or in the interest of their children. Clients who do not have quality representation, particularly those who have been victims of abuse, are often bullied into agreeing to their abusers' unfair terms for divorce, to their significant long-term detriment. With Andrea working alongside her, this did not happen to Yannely.
After more than a year of painful negotiations, LAS was able to get Yannely divorced. The parenting time schedule is exactly what she wanted, and the personal property was divided the way she was hoping for. Throughout the process, she received counseling at no cost through Metropolitan's North Center, and her son is starting counseling at Midway.
"My life is completely different," Yannely says. "Before my divorce my kids and I were always scared, anguished, without knowing what we would do, where we were going to live. Now after the divorce, we are in our own home, without stress, without fear, with a schedule that works for everyone."
She receives monthly child support, and once Andrea helped her with the sale of her home, she was able to purchase a new home where she is living happily with her three children.
Most importantly, Yannely now knows there is help available to her. "Sometimes as survivors of domestic violence we feel that the world closes all doors to us, and we stay next to our abuser out of need," she says. "I learned that there is help out there if you ask for it."
To me empowerment is the process I went through to find myself and realize that I am a strong woman, and I don't need anybody next to me to be the best person I can be on my own. After years of abuse, I could see myself in the mirror and recognize "me."
– LAS client Yannely