Metropolitan Receives National Award
Metropolitan Family Services is one of three recipients of an Agency of the Year award presented by the national membership association Alliance for Children and Families, headquartered in Milwaukee.
Metropolitan Family Services was chosen to receive the award because of its demonstrated excellence in board participation and support; impact through advocacy efforts on local, state, or national levels; and innovative programming in the past 12 months. Representatives from Metropolitan Family Services accepted the award at the 2013 Alliance National Conference on Oct. 17 in Minneapolis.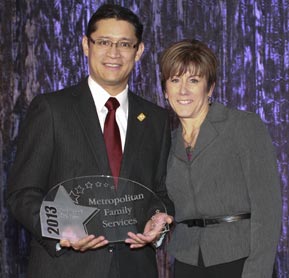 "The Alliance is pleased to honor Metropolitan Family Services with this award and to have this community asset as part of our network of members," said Susan Dreyfus, President and CEO of the Alliance. "For many years, Metropolitan has demonstrated its innovative spirit and commitment to living its mission each day for the betterment of the people of Chicago."
Metropolitan Family Services stepped up to fill the gap in services with the closing of the Jane Addams Hull House Association. By doing so, it expanded its economic stability programs and effectively doubled its domestic violence services after incorporating several programs.
In addition, the organization has been awarded federal contracts to be the sole Head Start/Early Head Start provider in DuPage County. With support from the lllinois Children's Healthcare Foundation, Metropolitan Family Services will establish a new system of service delivery to combine primary and behavioral healthcare in Chicago's Greater Englewood community.
Advocacy efforts remain a priority for Metropolitan Family Services. In the past year, Metropolitan Family Services has undertaken multiple advocacy efforts. The largest advocacy accomplishment was securing a $5 million state investment to build a new early childhood center in the Brighton Park/Gage Park area on Chicago's Southwest Side, which consistently ranks as Illinois' greatest area of unmet need for such services.
About Metropolitan Family Services
Metropolitan Family Services empowers families to learn, to earn, to heal, to thrive. Part mentor, part motivator, part advocate, since 1857 Metropolitan Family Services has been the engine of change that empowers Chicago-area families to reach their greatest potential and positively impact their communities.
About The Alliance for Children and Families
The Alliance for Children and Families is a national organization dedicated to achieving a vision of a healthy society and strong communities for all children, adults, and families. The Alliance works for transformational change by representing and supporting hundreds of nonprofit human-serving organizations located in North America to translate knowledge into best practices that improve their communities. Working with and through its member network, the Alliance strives to achieve high impact by reducing the number of people living in poverty; increasing the number of people with opportunities to live healthy lives; and increasing the number of people with access to educational and employment success. Go to alliance1.org for more information.