Metropolitan Peace Academy's Cohort Three shines in graduation ceremony
In reflecting on their experience in the Metropolitan Peace Academy, many of the members of Cohort Three talk about how they're better outreach workers now, whether that's because they're better communicators and more ready to step outside their comfort zones, or because they're now part of a network of outreach workers who support each other. They mention the importance of self-care and professionalism in their stressful work. They may have been doing trauma-informed work or practicing some form of Cognitive Behavioral Therapy or engaging in restorative justice, but now they understand the concepts around that work and can explain it. All of the cohort members plan to bring what they learned back to their communities.
At the graduation ceremony for the Metropolitan Peace Academy's Cohort Three, held recently at the South Shore Cultural Center with family and supporters gathering to celebrate the graduates, a video presentation showcased just a few of these reflections.
"I'm always going to look to cohort members for help, and I'm going to teach what I learned," says Elias.
"I learned how trauma affects young kids," says Fred.
"We can come at it in a way that participants can understand how to better react or better reintegrate into their community, and be a better person for their own blocks, their own streets, their own communities," says Daniel.
Two graduates shared their reflections on stage. Agustina Salinas, an outreach worker with Institute for Nonviolence Chicago (INVC), spoke about getting out of her comfort zone. "When I first got to the Peace Academy I was kind of quiet and didn't really want to say much. I was just looking around, a little out of place because I'm one of the only outreach workers who's a female," she says. "But the facilitators and my classmates slowly but surely got me out of my comfort zone and I ended up being so confident."
View Agustina's full reflections below.
"I didn't know what to expect, but I learned a lot," says Eric George, an outreach worker from ALSO (Alliance of Local Service Organizations. "I do the work, but what the Peace Academy taught me is how to label what I was doing." He spoke about CBT specifically: "When I learned about trauma, it was breathtaking," he says. "The little I learned, I was sharing with people. One guy told me I might be the next mayor, just because I kept it so 100 with him about trauma!"
View Eric's full reflections below.
Metropolitan Peace Academy Training Manager Vanessa Dereef handed out several special recognition awards to Cohort Three members.
For their professionalism, the Peace Academy honored Acclivus's Harold Martinez and We Are Englewood's K Nicole Vaughn as "individuals who exemplify what it means to lean into their discomfort and provide a professional vantage point for whatever they're talking about." Vanessa shared that both Harold and Nicole are going through school to become counselors and shed light on what's being done in the outreach community.
Along with the Peace Academy's emphasis on building capacity, the Stretch Award recognized "those who have leaned into their learning," says Vanessa. Thomas Jefferson and Steve Price from Target Area, Eric George and DeCarlos Toro from ALSO, and Alphonso Prater from INVC, "are stretching themselves to become facilitators who will one day deliver the curriculum we have created."
Vanessa spoke of the importance of empowering cohort members as future facilitators: "One of our goals is not only to do the work of street intervention, but also to lead the work inside the Academy, and make sure it always captures the voice of those who do this work."
One graduate, the recipient of the Resilience Award, was not a member of Cohort Three. Michael Nash started with Cohort One, but did not graduate at that time. Vanessa shared that he went through a challenge and is growing into a new version of himself, and recognized him "as an encouragement and a constant reminder that we are here to support you."
"The messaging of the Peace Academy is we're never punitive in our approach," Vanessa says. "We're always restorative, and we build people to be the best versions of themselves."
Another special recognition came in the form of a memorial tribute to Pastor Victor Rodriguez, lost earlier this year. Benny Estrada and Luis Valbuena, two graduates of the Peace Academy from New Life Centers and close friends of Pastor Rodriguez, both spoke about his impact on their lives and their work in the Little Village community. With Pastor Rodriguez's family in attendance, Benny and Luis thanked them and shared their appreciation.
"He was a visionary," says Benny. "He wasn't just our mentor, he was our big brother at times. He is truly missed, but I feel confident that everything he's poured into us, we're going to give back to the neighborhood."
"He was a man who took the church to the streets. He was a priest on Sunday, and lived it on Monday," says Luis. "It was an honor walking beside his shoes."
As each cohort member walked across the stage to accept his or her diploma, proud smiles and cheers filled the room as families stood up to take pictures.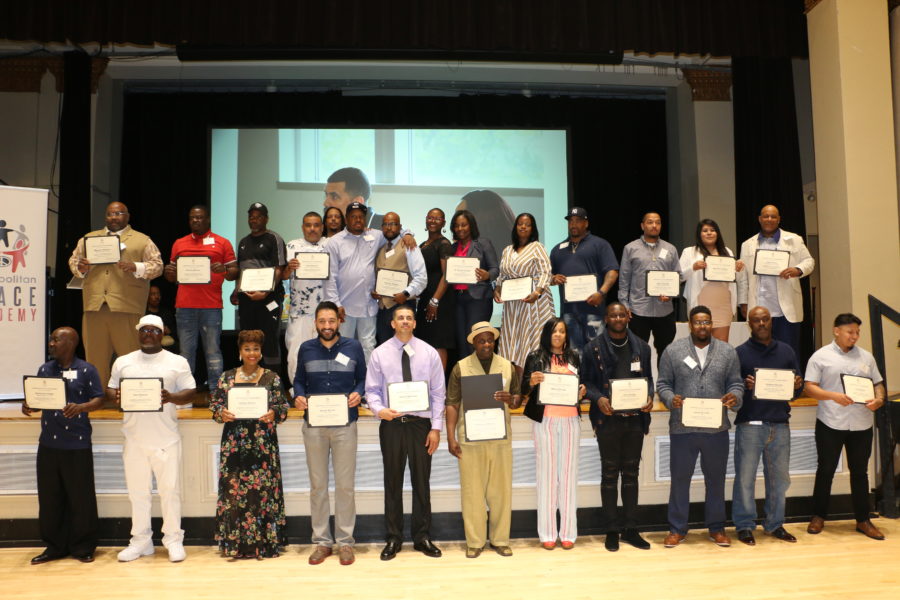 In his remarks, Communities Partnering 4 Peace Program Director Vaughn Bryant praised Cohort Three for their level of commitment to and engagement with the Peace Academy. "The more you put into the work, the more you get out of it, and I think this group really exemplified that," he says.
He also credited Vanessa for her contributions to the Peace Academy, leading a standing ovation and recognizing the importance of trust in street outreach work.
"If you come to the table doing the work we do, you automatically have my trust," Vaughn says. "You're doing this work because it's in your heart to do it. You're not doing it for the money, you're doing it because it's part of your purpose, it's part of your passion."
Vanessa, in turn, thanked the cohort members for their trust in her. "I talk about your impact a lot because we come together as a collective to remind ourselves of our impact," she says. And then she led the auditorium full of 160 attendees in a BOOM. "The energy from the BOOM reminds us of how powerful we are as a collective, and as we continue to expand and grow we're going to have an even greater impact."