Meet Dale, Therapist with our Adoption Support and Preservation program
Dale Zigulich has been providing therapy for Metropolitan's Adoption Support and Preservation Program out of our North Center for close to three years. He graduated from the University of Dayton in 2015 with a B.S. in Psychology and a minor in Social Work. He returned to school right away and earned a Masters degree in Social Work from DePaul University in 2017.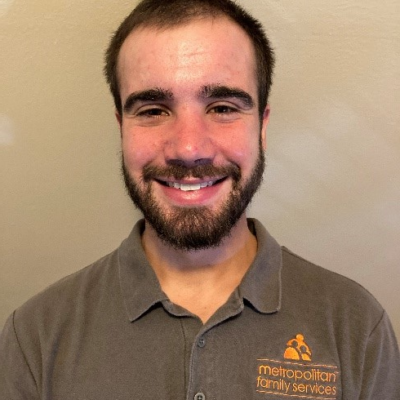 "The knowledge I gained in both undergrad and graduate school was helpful for my transition into the work force at Metropolitan Family Services," says Dale. "I have learned much about therapy, adoption, and helping others."
Dale says working with families that have adopted children, or are guardians to them, has been a positive, enlightening, and terrific learning experience. He talks of how he has grown as a therapist through the work he is providing, the trainings he has attended, and the support he receives from his team.
"Being part of the Adoption Support and Preservation team has opened my eyes to the many challenges families face that I had never thought of, or witnessed, before," said Dale. "The clients I have served all leave some sort of impact on me and I am grateful to be able to give therapy to all my clients and their families." Dale says seeing the progress he makes with families over time is one of the biggest joys of the job.
"My clients are always supportive, loving parents and it is a pleasure to work with such wonderful people in this world." Dale is looking forward to continuing his work with clients and their families for years to come.