Legal Aid Society attorney Andrea Belard honored by Hispanic Lawyers Association of Illinois
Congratulations to Metropolitan's own Andrea Belard, an attorney with our Legal Aid Society (LAS), who recently received the Hispanic Lawyers Association of Illinois' (HLIA) annual Community Service Award, for her work in public interest law!
Andrea, an attorney with LAS's Domestic Violence team, initially began her career in private practice before shifting to public interest law. Below, hear from Andrea on her work with Metropolitan.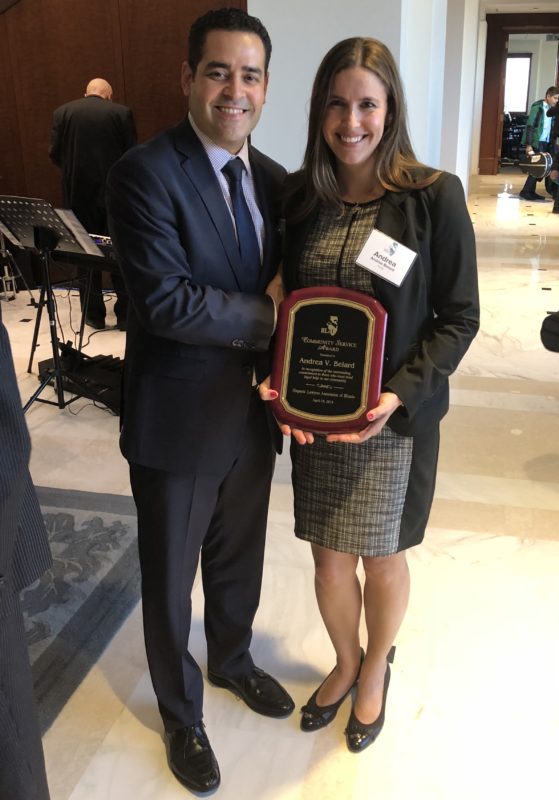 Andrea and her husband, Rafael, at the HLIA award ceremony
I did not go to law school interested in public interest work, but after working in private practice for a couple of years it became really clear that it was not for me. Becoming an attorney with Legal Aid Society at Metropolitan Family Services opened up a whole world of opportunities to help and grow as an attorney and as a human being. I've been able to help clients not just with their legal issues, but also with creating connections to help them with holiday gifts, furniture, clothing, and food. You never realize the depth of the need until you're in direct services and see it first hand … then you wish you could do so much more, or have more resources.
Being recognized by HLAI was important for me, because I am one of the very few members doing public interest work. It is important for other members of the organization and of the bar to remember that there's a whole population that needs access to justice.
What does empowerment mean to you?
In my specific area of work it would be what I always tell clients: information is power. Once you are informed, once you know your rights, you will not doubt yourself, you will not believe empty threats, you will stand up for yourself. I empower clients by giving them loads of information.