Joy to the World: DuPage League hosts its annual holiday dinner and auction
The Metropolitan Family Services DuPage League, a group of community leaders whose volunteer support of our DuPage Center spans decades, hosted its annual "Joy to the World" Holiday Dinner & Auction to benefit Metropolitan DuPage recently at the Le Jardin Room at Cantigny Park.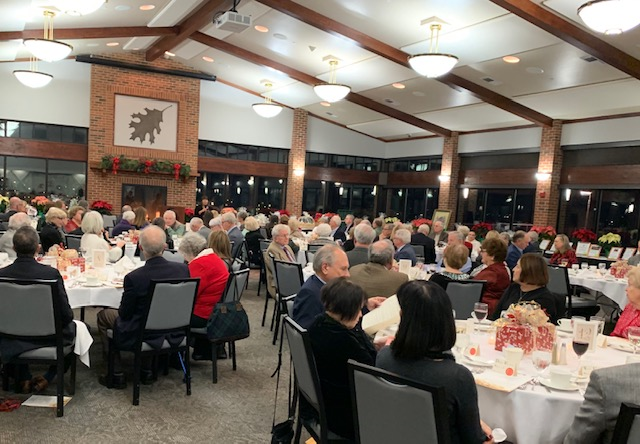 The DuPage League welcomed everyone with over 87 silent auction items and a 50/50 raffle that generated $1,200 for Metropolitan DuPage.
In sharing accomplishments across Metropolitan DuPage from this year and looking forward to next, Executive Director Rita Lopez Brosnan highlighted the community partnerships that make the Center unique. From the merger with Family Shelter Service to Behavioral Health to early childhood and senior programs Metropolitan DuPage is empowering DuPage County.
The DuPage Board Chair Bill Jennrich and Board Members Maryellen Klang, Sara Clark, Sharon D'Alessandro, Leslie Wilson, Anne Leventry, and Rae Nevling as well as Chicago Board Member Glenn Mazade were among the 100 supporters who attended in support of the DuPage League. Metropolitan DuPage staff members Allison Griffin and Reenie and Steve Meyer also attended.
Thank you to all who contributed to the event's success in supporting Metropolitan DuPage and getting everyone in the holiday spirit!
Organized in 1964 and known as the DuPage League, the group includes more than 100 women from across the county. In addition to annual holiday dinner, its main fundraiser, the League hosts meetings, programs, and events throughout the year in support of Metropolitan DuPage, including volunteering at our Treasure House resale shop.
Special thanks to the DuPage League for its hard work on behalf of Metropolitan DuPage.
Event Chair: Mary Ann Carignan
Auction Committee Chairs: Sandy Shepard, Joan Skodol, Fern Evelhoch, Mary Jane Banta
50/50 raffle: Sharon Chipman
Invitations: Joan Skodol
Centerpieces: Sandy Shepard
Solicitations/Donations: Pat Alstrin, Maureen Bellock, Mary Ann Carignan, Sharon Chipman, Tom & Claudia Dunn, Diane Ivers, Priscilla Maliff, Madeline Marbach, Judy Nahumyk, Jocelyne Raahauge, Sandy Shepard, Shirley Snyder, Joan Skodol
Floral/Plant Arrangements: Linda Malecki
Table assignments and place cards: Marilyn Lesak
Bid Sheets and Program: Mary Perona
Registration and checkout: Mary Jane Banta, Mary Perona, Mary Ann Carignan, Sandy Shepard, Sharon Chipman