Good News: June 8, 2018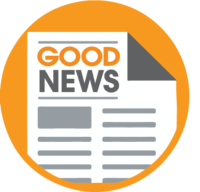 Welcome to Good News! In this space we feature positive stories of community impact and development, relevant to the areas Metropolitan serves or the programs we offer.
On Gwendolyn Brooks' birthday, a statue of the powerful poet will be unveiled on the South Side
Chicago Tribune
Brooks will become the first Chicago-based black poet honored with a statue and memorial in a Chicago public park. The installation will be unveiled at the North Kenwood park on South Greenwood Avenue that carries her name.
Chicago students band together in Guitars Over Guns music program
Chicago Sun-Times
Every week for a few hours after school, aspiring guitarists, drummers, vocalists, keyboardists and songwriters are invited to partake in a program that provides instruments and instruction from professional local musicians, free of cost. The idea: to give children from some of Chicago's most vulnerable communities the chance to express themselves in positive ways and better connect with peers in a band ensemble setting.
How one architect is helping neighborhood startups open their first shops
Crain's Chicago Business
For new ventures in Chatham, Englewood and Austin, Chicago architect Katherine Darnstadt is helping entrepreneurs create "microstores" as brick-and-mortar locations for their startups in shipping containers.
Public Housing Museum's 'Everyday Objects' exhibit spotlights fading communities
Chicago Sun-Times
Twenty current and former Chicago Housing Authority residents whose prized and ordinary possessions are featured in the Public Housing Museum's 'Everyday Objects' exhibit, alongside their owners' extraordinary stories.