Good News: July 27, 2018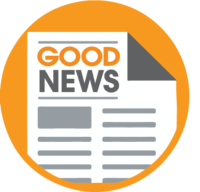 Welcome to Good News! In this space we feature positive stories of community impact and development, relevant to the areas Metropolitan serves or the programs we offer.
West Side popup store doubles as case study
Austin Weekly News
Forty Acres Market wants to prove that Austin 'deserves fresh food,' too: the pop-up fresh market came when founder Elizabeth Abunaw saw the dearth of healthy food options in the area.
School's out but free meals continue, thanks to Food Depository's 'Lunch Bus'
Chicago Sun-Times
The Lunch Bus stops at libraries, parks and summer camps — 24 Cook County locations in all. Generally, Lunch Bus meals include fruit, vegetables, a carton of milk and a sandwich. Paul Morello of the Food Depository said said other summer meal programs also exist in Chicago, but not enough people know about them. They are going door-to-door in some communities to spread the word.
Freedom School Summer Program Continues in Evanston
Evanston RoundTable
What started as a civil rights movement in the 1960s has made its way to Evanston's Fifth Ward. The Garrett-Evanston Children's Defense Fund Freedom Schools Program, which grew out of the Mississippi Freedom Summer Project of 1964, is currently in its third year of providing a free six-week summer learning program for third- through eighth-grade students in School District 65.
Nuestra Villita
South Side Weekly
Every summer, young people from across Chicago come to Little Village to take classes at Yollocalli Arts Reach, an award-winning youth initiative of the National Museum of Mexican Art. Here, students of the Camera Flux class explain in their own photographs and words what it means to be an immigrant in Little Village today.