Good News: August 7, 2020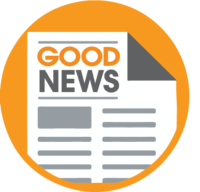 Welcome to Good News! In this space we feature positive stories of community impact and development, relevant to the areas Metropolitan serves or the programs we offer.
South Side Bike Rides Creating New Form Of Activism, Solidarity And Positivity For Black And Brown Cyclists
Block Club Chicago
Within a few months, the founders have broadened the purpose of Streets Calling, growing it into a social activist group that looks to uplift Black neighbors and businesses through their rides.
2 new restorative justice courts to open next month in Avondale and Englewood
Chicago Sun-Times
The courts allow nonviolent offenders between 18 and 26 the opportunity to apologize, hear out their victims, do service work and have their arrest expunged.
Meet the formerly incarcerated women who started a worker-owned business providing meals in response to COVID-19
The Real Chi – Free Spirit Media
When the reality of COVID-19 began to set in for Chicagoans this past March, many small-business owners closed shop and braced themselves for the financial loss that was sure to soon follow. The worker-owners of ChiFresh Kitchen, however, had a different agenda. "The pandemic absolutely blessed us at ChiFresh," said owner Edrinna Bryant.