Good News: April 6, 2018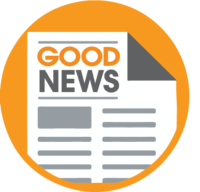 Welcome to Good News! In this space we feature positive stories of community impact and development, relevant to the areas Metropolitan serves or the programs we offer.
Magnolia Screen Printing wants to provide jobs for the young people of Chicago Lawn
Chicago Reader
The owners of a screen printing shop in Chicago Lawn are using their business as a way to develop their community by providing work opportunities for area youth. "Omar and Justin care about the work that is being done and how it is being done, but they also care about how my day is going outside of work," says one of the young employees.
Little Village Teacher Receives Golden Apple
Lawndale News
"I grew up with a similar background like my students who face obstacles. It is my responsibility to empower them, to inspire them, to build relationships, and foster a sense of accountability," says a Little Village teacher who recently received the prestigious Golden Apple teaching award for her work at Little Village Academy.
Austin clinic helps patients improve housing conditions to live healthier lives
AustinTalks
A new community wellness center in Austin offering mental health services will now offer legal and housing help, thanks to a new partnership with Lawyers' Committee for Better Housing.
In a world filled with anxiety, picture books can help parents address children's fears
Daily Southtown
Local youth librarians say children's books can be a springboard for exploration and self-expression for kids. Children, like so many other demographics, need to see themselves reflected in books and movies," said Kerry Reed, youth services manager at the Tinley Park Public Library.