Family of the Year Award
Join us Saturday, November 2 as we honor the Tony Hunter family! Learn more about Mpower the Night and read Tony's bio below.
"What purpose will fuel your passion?"

"I was always intrigued and supportive of surrounding families with umbrella services because they have multiple needs." Tony Hunter, long-standing Metropolitan board member and current Co-Chair of the Campaign to Mpower Families. He credits the philanthropic culture at his then-employer, the Chicago Tribune, with his start. Tony had been supporting the United Way and serving on the board of a fatherhood organization, and as he began to look for a board with a wider scope and larger impact, a coworker left the Metropolitan board. Tony stepped in.
"My passion and Metropolitan's services and mission were totally aligned," he says. "All these things came together for me at the right time to get me involved in a meaningful, hands-on way to make a difference for families in need."
Tony joined the Metropolitan board as another notable figure in the organization started: our CEO, Ric Estrada. "The hiring of someone of his stature and exceptional leadership capabilities was exciting. We were so fortunate to land him," Tony says, noting this as "one of the points when my intensity and passion for MFS was strengthened and heightened."
In the nearly ten years since then, Tony's passion has only grown stronger. Another of those points of heightened intensity, he says, came in the form of another key leadership moment.
"It was an honor to be asked by Martha Melman to serve as Vice Chairman," he says. "That was another breakthrough … to serve with her, to become a close partner and now close friend with her, and to see, first hand, how over the course of decades on the board, her commitment has never wavered."
And then another pivotal moment…the launching of The Campaign to Mpower Families. The campaign, under the leadership of Tony, Martha, Richard Price, and John MacCarthy, has raised more than $28 million to Mpower lives. The campaign has been another highlight of Tony's MFS journey because of its impact on the lives of the children he's visited at the Addison Early Learning Center.
"Going out and seeing the kids is always moving, and reminds me of why I'm proud to be on this board," Tony says. "It reinforces what I believe: all children deserve the opportunity to grow up surrounded by care, love and encouragement. The importance of a strong foundation and core set of values is critical." It's a big reason for his intense commitment to families, he says. "Being with kids and seeing how eager they are, the struggles they face, breaks your heart and lifts your spirit at the same time."
Tony has talked about the importance of leading from the front in his community, and the importance of letting passion fuel that leadership. "Giving back is mandatory for all of us. We all should strive to serve others, and help people in need," he says. "That's why we're here. We're supposed to pay it forward and lift the lives of others."
How can others find the right organization? "Start by saying, 'What's my passion? What's the impact I want to make?'" he shares. "What purpose will fuel your passion? Find that purpose and you will make a meaningful difference."
"I continue to be passionate about giving kids and families a running start," Tony says, and that's exactly what he's been doing through his work with Metropolitan Family Services.
What does empowerment mean to you?
"There was a moment – 53 years ago: I'm reading at home, and my mom says to me, ' You can do whatever you want to do.' I'm 58 now, and that message still resonates strongly. I know how blessed I am; how many other children don't have that, don't get that. Empowerment comes from the development of mental, physical and spiritual capabilities. When those foundational elements are present, people are empowered to succeed. And when given that foundation, children and families can achieve their dreams and aspirations.
When thinking about empowerment through the lens of Metropolitan…leadership comes to mind. The role of a leader is to create an environment where everyone can reach his or her full potential. At MFS, we create the programs and services that provide families with tools and resources to succeed. And because I believe everyone has the potential for greatness, I'm proud to serve on the Metropolitan board, where empowerment is the outcome we strive to achieve for all of our clients.
Honoring the Tony Hunter Family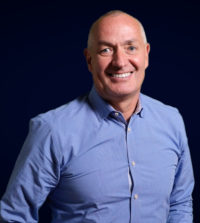 A leader of companies and advisor for 30+ years, Tony Hunter provides practical leadership lessons on strategy and organization-driven reinventions. He has navigated massive disruption throughout his career as CEO, strategist and advisor. Most notably, during his time at Tribune, he led transformational efforts as CEO of Tribune Publishing and Publisher of the Chicago Tribune.
Tony is the Chairman of Revolution Enterprises, as well as the founder of TWH Inc., an advisory firm that specializes in working with senior executive teams and companies to think bigger and bolder, translate strategy into action, and align organizations to move faster through a method he likes to call "orgagility."
"I'm excited to go from the disrupted to the disruptor," says Tony.
Tony is a non-practicing CPA. He earned his BA from Coe College and his MBA from DePaul. He is the former chair of the News Media Alliance, Chair Emeritus of Metropolitan Family Services and United Way board member. Tony is a husband, father and grandfather, his favorite "job" title.