Metropolitan Family Services DuPage Board of Directors are pleased to honor Paul and Mary Ann Travers as the Roger K. Johnson Award Recipients at our DuPage Gala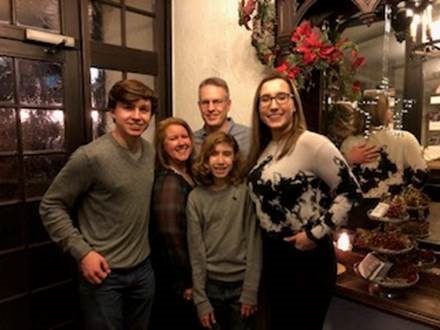 Join us in honoring Paul and Mary Ann Travers at the DuPage Gala! Register for the May 8 event here.
Paul and Mary Ann are dedicated supporters of Metropolitan Family Services DuPage (MFSD) having served in various Board capacities with Family Shelter Service (FSS) dating back to 2007. Mary Ann joined the FSS board, was on the Finance Committee and served as Board Secretary. When Mary Ann's six-year Board term expired, Paul joined the Board, took over leadership of the Finance Committee, and served two years as the FSS Board President. Paul was an integral member of the combined MFS/FSS merger task force team and serves on the FSS Advisory Council.
Paul and Mary Ann are family focused, instilling their values of giving back through their time and resources to their three children, Savannah, Jackson and Brady, thus the mission of FSS captured their hearts – a way to help families struggling through difficult times. They became passionate supporters, raising funds, recruiting, as well as serving as volunteers, and introducing new board members to FSS. They could not be more thrilled with the expansion of FSS services under the MFS family.
Paul is the Vice President of Financial Planning & Analysis at DuPage Medical Group, having recently joined the DMG team after serving in a similar capacity with Allscripts Healthcare Solutions. He graduated from Fairfield University with a BS in Finance and received his MBA from the University of Chicago. Paul previously worked in equity research and valuation consulting. Paul's commitment to the healthcare industry threads through his passion for FSS of MFSD.
Mary Ann is a Partner at Crowe LLP, a top-10 accounting, consulting and technology firm, where she serves as the national Valuation Services practice leader and the Chair of Crowe's women's program, Women Leading@Crowe. Mary Ann graduated from the University of Chicago beginning her career as an economic consultant, moving on to work as an investment banker and then combining her interests of economics/finance and deal-making as a valuation professional at Deloitte before leaving to head Crowe's national practice. FSS' mission is near and dear to Mary Ann, having been in an emotionally abusive first marriage. It has been her mission to help ensure other women are Mpowered to thrive.
Paul and Mary Ann have a family-first focus which is why they are so passionate about our collective ability to grow the services provided to our FSS clients to include domestic violence support, behavioral health services, legal aid support, court advocacy, shelter, job readiness and leadership training.
In his spare time, Paul has coached baseball, soccer, and hockey, a sport he still enjoys playing weekly. He enjoys golf, music (guitar), traveling and family dinners. Mary Ann volunteers for Junior Achievement in the classroom and serves on the JA Board of Chicago, teaches Children's Liturgy of the Word and is a Eucharistic Minister at St. Joseph Church, is an avid reader (belonging to two book clubs), loves travel and cherishes time with family and friends.
Paul and Mary Ann will be married for 18 years in May and look forward to a lifetime of giving back to the community through their commitment to MFS/FSS.