Evanston/Skokie Valley Center
5210 Main Street
Skokie Valley, Illinois 60077
Phone: 847-425-7500
Fax: 847-676-8135
Metropolitan Family Services Evanston/Skokie Valley Center helps families and individuals struggling with relationships, abuse, grief or loss find the help they need, and has been part of the community since 1910. Metropolitan Evanston/Skokie Valley is part of Metropolitan Family Services, which has been empowering Chicago-area families to reach their greatest potential and positively impact their communities since 1857.
Areas Served
Serving Evanston, Golf, Lincolnwood, Morton Grove, Niles, Skokie and Maine Townships.
Hours of Operation
Monday – Friday: 8:30 A.M. – 5:00 P.M.
Evenings by appointment only
Find out more about Metropolitan Family Services Evanston/Skokie Valley Center
Programs & Services | Community Board
Additional Location
Evanston
820 Davis Street, Suite 218
Evanston, Illinois 60201
---

Executive Director
Roxanne Nava
____________________
Center Director
Carla Frisch
Carla Frisch is the center director of Metropolitan Family Services Evanston/Skokie Valley Center, where she has more than 30 years of experience strengthening the communities that Metropolitan serves, including the last two decades advocating for the needs of vulnerable adults. Since 1996 she has been involved with Metropolitan's Evanston/Skokie Valley Adult Protective Services (APS) Program, which promotes the wellbeing of seniors and adults with disabilities, and investigates cases of abuse and neglect.
Known widely as an expert on elder and adult abuse issues, she is a founding committee member and past co-chair of the Evanston Aging Well Conference, which focuses on strategies for older adults, their families, caregivers and professionals. Frisch also participates in numerous local organizations and committees to promote effective coordination of services and to strengthen the community at large.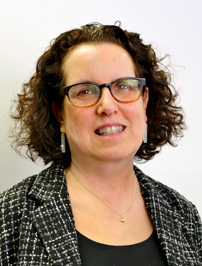 Carla Frisch
Center Director, Evanston/Skokie Valley Center
Frisch's honors include a 2006 Certificate of Excellence from the Illinois Department on Aging in recognition of her work with Illinois' vulnerable older adults. She earned her Bachelor's degree in Social Work from the University of Illinois and her Master of Arts degree from the University of Chicago School of Social Service Administration.