Executive Director
Audrena Spence, MSW, LSW
Audrena Spence is the executive director of Metropolitan Family Services Calumet Center, a comprehensive human services agency providing numerous services to individuals and families on Chicago's far South Side. Spence, a licensed social worker, has more than 20 years' experience in human services and is an active community leader who works on many collaborations within Chicago's greater Roseland community and beyond.
Under Spence's leadership, Metropolitan Calumet — called the Miracle on 103rd Street — has grown from a $5 million budget in 2007 to a current budget of $8.2 million.
Audrena strives to motivate her staff to think critically and strategically on solutions to improve clients' lives. The staff is further encouraged to align their efforts to create a teamwork approach. Audrena is an active community leader, and works on many collaborations within the greater Roseland community.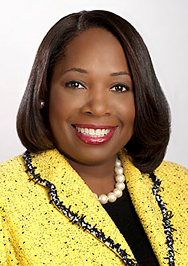 Audrena Spence
Executive Director, Calumet Center