Calumet Center's staff and Community Board celebrate the holidays
Our Calumet Center, often called the "Miracle on 103rd Street," finished the year strong with a virtual holiday celebration!
It began with a Community Board meeting, led by Co-Chairs Jorge Farr-Aguilar and Eric L. Thompson, with a beautiful reflection by Jennie Betton followed by an update by Executive Director Audrena Spence.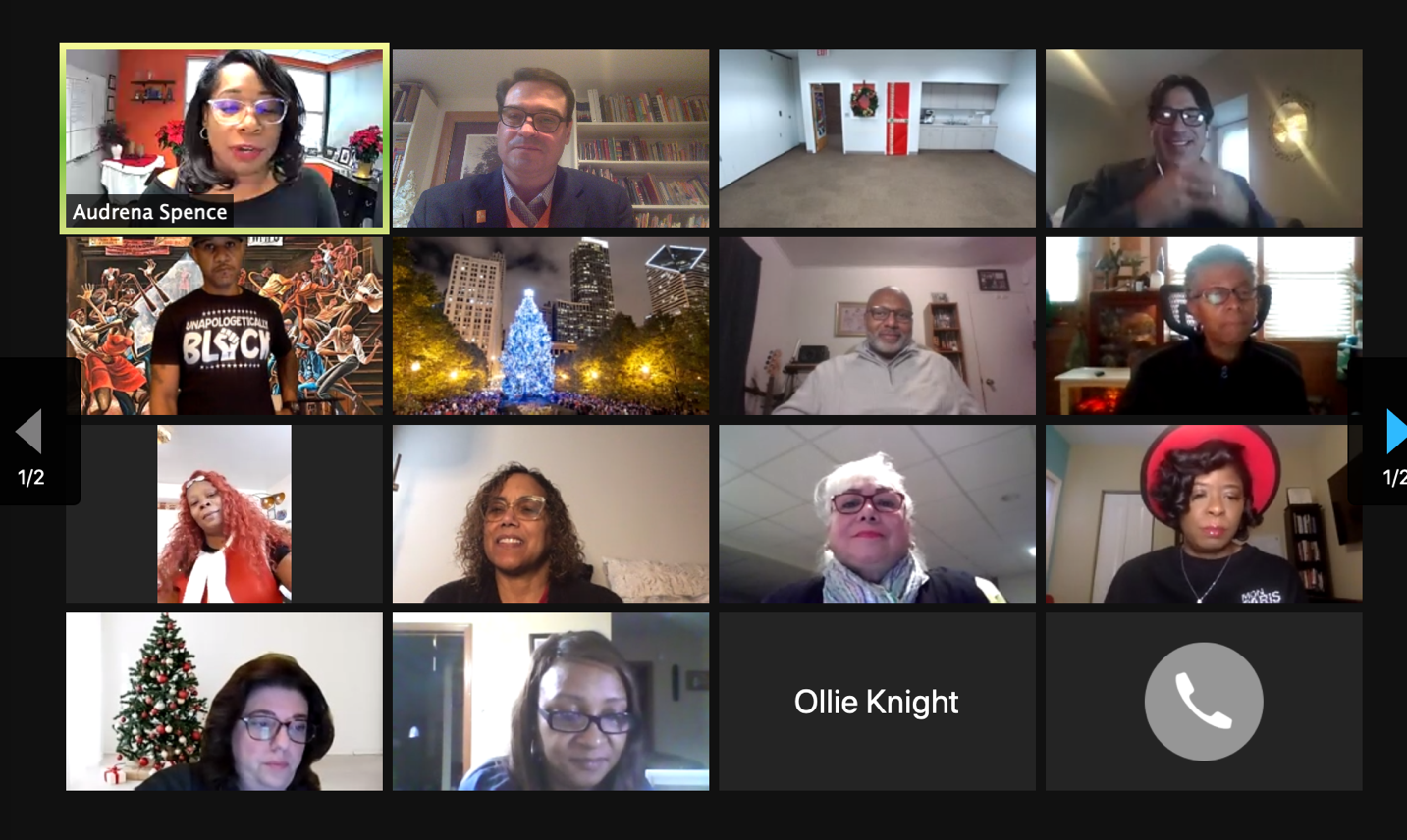 The celebration kicked off with welcomes from Board Co-Chairs Farr-Aguilar and Thompson, Vice-Chair Betton and Calumet Executive Director Spence. The next four hours included a whirlwind of fun for everyone!
DJ Colin Lord had staff and their families out of their seats for the virtual Family Dance Party. Then, the staff had the opportunity to select a break-out room to express their artistic ability in a Paint and Create session with artist Arthur Wright or show their musical skills with Name That Tune and Holiday Karaoke hosted by DJ Lord.
The staff then joined together to get the body moving with dance lessons; line dancing with Gloria Winston and Lynn Singleton, salsa with April Dixon, and stepping with Laveania Kimbrough.  We ended the celebration with a non-stop House Party with DJ Lord.  Suffice it to say, the Calumet staff has some accomplished dancers in its midst.
During the celebration, there was a "Thank You" break from CEO Ric Estrada and COO Theresa Nihill.  Ric, who looked very festive in a holiday sweater, wished everyone a good and safe holiday with a reminder to wear your mask.  There were also "Raffle" breaks every 30 minutes, including a virtual raffle wheel; several staff members were excited to win great raffle prizes.
Everyone agreed that Winter Wonderland was a fun and wonderful way to celebrate Calumet's hard work and accomplishments this year.  Several commented that it was an honor to serve at the Calumet Center.  Special thanks to the CCCB Board for its support, and the Winter Wonderland committee that worked so hard to make the celebration a success:
Tonika Davenport
Carrie Pullie
Pamela Porter-Dixon
Cydne Peterson
Dorian Brumfield
Carlos Smith
Lisa Culley Hubbard
Liquita Saulter
Deandre Allen
Tiffany Kemp
Erika Bailey